Columns
Dr. Manning Marable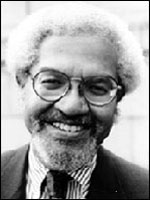 Manning Marable is Professor of History and Political Science, and the Founding Director of the Institute for Research in African-American Studies at Columbia University in New York City. Born in 1950, in Dayton, Ohio, Dr. Marable was the founding director of Colgate University's Africana and Hispanic Studies Program, from 1983 to 1986.
He was Chairman of the Department of Black Studies at Ohio State University, from 1987 to 1989, and was also Professor of Ethnic Studies, History and Political Science at the University of Colorado at Boulder from 1989 to 1993.
Dr. Marable is the author of thirteen books, including Black Leadership (1998), Black Liberation in Conservative America (1997), Speaking Truth to Power: Essays on Race, Radicalism and Resistance (1996), Beyond Black and White (1995), The Crisis of Color and Democracy (1992), Race, Reform and Rebellion: The Second Reconstruction in Black America, 1945-1990 (1991), African and Caribbean Politics (1987), W.E.B. Du Bois: Black Radical Democrat (1986), Black American Politics (1985) and How Capitalism Underdeveloped Black America (1983). Dr. Marable's forthcoming books include: editor, Let Nobody Turn Us Around: Voices of Resistance, Reform, and Renewal: An African-American Anthology, with co-editor Leith Mullings (Lanham, Maryland: Rowman and Littlefield, 2000); editor, Dispatches from the Ebony Tower: Intellectuals Confront the African American Experience (New York: Columbia University Press, 2000); editor, No Easy Victories: An Anthology of Black Radicalism from 1968 to the Present (London and New York: Verso, 2000), with co-editor Leith Mullings and associate editor Johanna Fernandez; editor, The Columbia Reader of African American History (New York: Columbia University Press, 2001), with associate editors Nishani Frazier and John McMillian; and What Black America Thinks (Boston: Houghton-Mifflin, 2001). He has also written over two hundred articles for academic journals, edited volumes and other scholarly publications.
In January 1999, Dr. Marable initiated Souls: A Critical Journal of Black Politics, Culture and Society. This new quarterly journal examines key theoretical issues within black America, Africa and the Caribbean. Souls is edited by Dr. Marable, published by the Institute for Research in African-American Studies at Columbia University and Westview Press, and distributed throughout the U.S. and internationally.
Since 1976, Dr. Marable has written "Along the Color Line," a syndicated commentary series on African-American politics and public affairs. The series is regularly published in over three hundred and twenty-five newspapers and magazines in the U.S., Canada, United Kingdom, the Caribbean and India.
Dr. Marable is a prominent lecturer and interpreter of the politics and history of race in America. He regularly appears on media programs such as NBC's "Today Show," ABC's "Weekend News," PBS, Fox Network News, C-Span, National Public Radio, the "Charlie Rose" show and BBC television and radio. Dr. Marable was a co-founder of the Black Radical Congress, a progressive coalition of African-American activists. He is a national co-chairperson of the Committees of Correspondence, a democratic socialist organization. Dr. Marable also donates much of his time with civil rights, labor, religious and social justice groups.
An archive of Dr. Marable's works can be found at www.freepress.org/Backup/UnixBackup/pubhtml/manning.
Email this article to a friend

"The Failure of U.S. Foreign Policies"
November 9, 2001
"Reparations and Our Rendezvous with History"
November 8, 2001
"Terrorism and the Struggle for Peace -- Part Three of Three"
September 30, 2001
"Terrorism and the Struggle for Peace -- Part Two of Three"
September 29, 2001
"Terrorism and the Struggle for Peace -- Part One of Three"
September 29, 2001
"How Capitalism Underdeveloped Black America Updated Edition Now"
February 2, 2001
"Stealing the election: The compromises of 1876 and 2000"
January 23, 2001
Read Articles by Year:
2014 2013 2012 2011 2010 2009 2008 2007 2006 2005 2004 2003 2002 2001 2000