Reflections
on
Black
History
______

Part 36
Last Days on Shipboard

by Thomas C. Fleming, May 27, 1998

In Los Angeles in 1926, on the coastal passenger ship S.S. Emma Alexander, we loaded a film company headed by Bebe Daniels, one of the big Hollywood stars, for the purpose of filming a sea scene for her movie. It was a silent picture; this was before talkies came in.
Actress Bebe Daniels (1901-71) as she appeared
when filming aboard the S. S. Emma Alexander in 1926.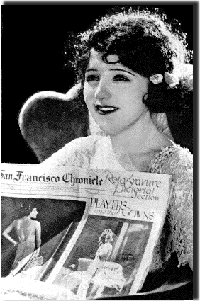 The company numbered about 60, including camera crew and other technicians, plus the actors themselves. They did a lot of shooting that night. It was a wild party, all the way to San Francisco. Some of them were ringing that switch for a bellboy all through the night. Of course, we got tipped well.

Her company was a rousting bunch, who had a tremendous thirst that only alcohol could satiate. This was during Prohibition, of course. Our Canadian purchases were still on hand, and I got $25 for the single bottle of whisky I had. I could have received more, but I was not smart enough in that type of business at that time.

As an 18-year-old bellhop, I learned my duties quickly on the Emma, and earned a lot of tips. I was very cocky that summer, particularly since I had encountered no problems in finding a job. But after a few months I earned the dislike of the bell captain. He was a surly little black man, practically a dwarf, about 40 years of age. He did not like to see a rank youngster like me make more than he did, and he became very nasty towards me.

When the ship was on its northbound run, he dressed me down for no reason at all. Our verbal exchange became so hot that I told him when we got to shore I would kick his ass. He answered that when the ship docked, I would no longer be part of the crew, which took away a bit of my cockiness. It was probably my fault. I looked a bit down on him, because he didn't have any education.

The next port would be Seattle, and I did not fancy being put ashore in that city. So I went to see Harvey Richards, who worked in the galley as a dishwasher and longed to get out of the kitchen. I knew that he was waiting for a bellhop position. I asked if he would trade jobs with me and he agreed.

We sought the headwaiter, a black man who was classified as second steward. He offered no objections, so I changed from my bellhop suit to dishwashers' clothes, and went to work.

There were several electric dishwashers with motors, placed in huge wash sinks. When meals were in progress, the waiters would bring in piles of plates, cups, dishes, plus all of the huge and small types of cooking pots, pans and skillets. I never saw so many dishes in my life. The breakfast plates were the hardest, as the yolk of eggs stuck to the plates. The hot water would cook the egg yolk even more, and it would cling harder.

I discovered the prodigious amount of food served at every meal, as I scraped food and leftovers that were not used -- sometimes a half turkey, or huge portions of prime beef roasts, prime rib, bread, vegetables and poultry. It was all thrown out of the porthole. I learned why sea gulls follow ships far out to sea; it is worth their efforts. I often thought about poor people on shore who would have been glad to get all of that food.

I worked as a dishwasher for just one trip, and when the Emma returned to San Francisco, I packed my bag and went back to the hiring hall, and was able to get a spot on the Admiral Dewey, one of the smaller ships, as a room steward. It had a capacity for about 200 passengers, and none of them seemed to be big spenders like on the bigger ships. As cabin steward, I served the needs of the passengers in about 20 cabins, keeping them clean, changing the linen every day while at sea, then assuming duties on the pier before sailing time, to carry on board the luggage of the passengers.

I made one round trip, stopping at ports between Seattle and San Diego. Since it was now September, the summer tourist trade slackened sharply, and the ships began laying off some crew people. Having been hired in July, I was not surprised when the steward informed me one day that I was a victim of reduction in personnel.

I took my bag and went over to Oakland, where I informed Mama and Kate, my younger sister, that I was jobless. I had about $50. They were still renting a room, and I couldn't stay there with them.

Mama was working as a domestic, and she did not earn any more doing that type of work in Oakland than she had in Chico. Most domestics had to work six days a week, and I thought then that white families had a sort of national federation, in which they agreed that they would not pay their cooks and maids above $50 a month.

A lot of white women were working as domestics at that time too, doing practically the same work as black women. Both white and black women were badly exploited in those days -- underpaid, and working as many hours as the bosses desired them to work. There were no domestic unions of any kind. White women could also get jobs as secretaries and as clerks in department stores, which black women couldn't. But they weren't unionized either.

Domestics have always been the lowest paid of all the workers. You'll probably find that true worldwide. What caused domestics to be paid a little bit more was the outbreak of World War II, when women started leaving their domestic jobs and going to work in the shipyards, where they were being paid hourly wages and getting overtime. That brought change.
---
Copyright &copy 1998 by Thomas Fleming. Email.
At 90, Fleming continues to write each week for the Sun-Reporter, San Francisco's African American weekly, which he co-founded in 1944. A 48-page book of his stories and photos from 1907-19 is available for $3, including postage, and a 90-minute cassette tape of his recollections of black life in Florida, Harlem and Chico from 1912-1926 is available for $5, including postage. Send mailing address.
---
Fleming Biography
More Fleming articles
Back to Front Page