Reflections
on
Black
History
______

Part 52
Return to L.A.

by Thomas C. Fleming, Sep 16, 1998

When I started going down to Los Angeles in the late 1920s, while working for the railroad, there were probably 25,000 blacks living there -- more than any other city west of Kansas City.

Hollywood drew blacks just as it did whites, who were anxious to get a job in the motion picture industry. Not many blacks got into the movies, but quite a few worked in Hollywood as servants, and some were hired as extras in motion pictures, or in the technical departments of filmmaking.

There were far more job opportunities for blacks in Los Angeles than in the San Francisco Bay Area. Besides railroad work, a lot of blacks were hired as policemen and firemen. There were black teachers -- even a black principal. And many blacks had jobs working for the city of Los Angeles.

It seemed that most of the blacks in California came from Texas and Louisiana, because both states were on the main line of the Southern Pacific. New Orleans was the easternmost and southernmost point for the railroad, and trains had to go all the way through Texas to get to the West Coast.

I heard that the Southern Pacific recruited in the South for black workers. That was before the railroad unions got strong, so they could pay these people lower wages. They brought blacks to the West Coast to work on the dining cars, and in their maintenance shops in Los Angeles, Oakland, and Portland, Oregon.
Southern Pacific's maintenance shop in Los Angeles, 1924.
A 200-ton crane is shown lifting a 315,000-pound locomotive over
other engines being repaired in the shop. (Photo courtesy of Bill Yenne.)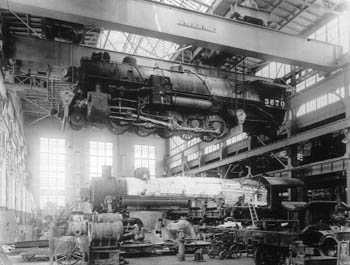 The main shop for Southern Pacific's whole system was in Sacramento. If a car broke down anywhere on the system, and needed some major repair work that couldn't be done locally, they'd hook it onto a train coming West and bring it to Sacramento.

Because of its mild winters, Southern California -- and particularly Los Angeles -- was the magnet for Americans from other states in search of a sort of paradise before they left the planet. The joke was to call Southern California the capital of Iowa. This was because so many farmers had sold their Iowa acres to purchase orange groves in California, where they could escape the rigors of an Iowa winter.

The dining car crew for the Southern Pacific stayed in a black-owned hotel with a pool hall on the ground floor. Some pool sharks made it their headquarters, to take advantage of train crew members who thought they were very good. I took a look, just to watch the hustlers and their preys work out with their cues. I shared a room with another dining car cook. The sheets in the hotel were clean, but the building had a woebegone appearance and there was a musty smell of age pervading the whole structure.

Phil Peterson, a waiter for the Southern Pacific, was from Los Angeles, and he invited me to accompany him to his family home during our stay. Florence, his youngest sister, was the maid for some big Hollywood personage. She stayed on the place every day except the traditional Thursday day off that black female domestics received nationwide. Florence had a brand new Ford soft-top model with a jump seat in the back, which carried two passengers.

Phil borrowed Florence's Ford and promptly took me and another crew member on a day tour of Los Angeles and its surroundings. He drove out to Long Beach, Venice, Santa Monica -- which in 1928 had a sizable black community -- and other places on the coast. Then came a tour of Hollywood, Pasadena and of course Central Avenue, which was the Los Angeles version of Lenox Avenue in Harlem and State Street in Chicago.

In the late 1920s, Dr. Marmillion, a black physician in Los Angeles, opened the Marmillion Hotel on Central Avenue. He built it from the ground up. It was three or four stories, and had about 150 rooms. The ground floor contained a restaurant, barber shop and a nightclub, which became one of the most popular places in black Los Angeles.

The nightclub was a gathering place for us. You could go there and get good jazz. It served meals and whatever booze that each customer was able to purchase on his own, since Prohibition was still the law of the land, although one could buy the brew called near beer.

The big thing was the nightly show by the house band. It could have been Curtis Mosby, one of the big bandleaders who lived in Los Angeles. Lionel Hampton was Mosby's drummer before he left to join the house band at Frank Sebastian's Cotton Club in nearby Culver City, under the direction of Les Hite. Lawrence Brown, the great Duke Ellington trombonist, also sat in the Hite band at that time. Los Angeles had a lot of openings for jazz musicians. Besides playing at dances and clubs, they could get work in films.

The Cotton Club, Los Angeles version, attempted to present the same lavish shows nightly as did the Cotton Club in the Big Apple. It had maybe one big-name singer on the bill, such as Ethel Waters, but did not have the same big chorus girl lineup or the huge supporting band, comedians, or dancers as the world-famous club in New York.

Los Angeles at the time had no opera house, and no major playhouses. The city was the butt of wisecracks all over the country for its lack of first-class hotels. The best two were the Ambassador and the Biltmore. A lot of big-money people went to the Ambassador's supper club, because that's where Bing Crosby became famous. A lot of us used to sit up late and listen to that show on the radio. But we couldn't go in there: they refused service to blacks.
---
Copyright &copy 1998 by Thomas Fleming. Email.
At 90, Fleming continues to write each week for the Sun-Reporter, San Francisco's African American weekly, which he co-founded in 1944. A 48-page book of his stories and photos from 1907-19 is available for $3, including postage, and a 90-minute cassette tape of his recollections of black life in Florida, Harlem and Chico from 1912-1926 is available for $5, including postage. Send mailing address or call 415-771-6279.
---
Fleming Biography
More Fleming articles
Back to Front Page