Reflections
on
Black
History
______

Part 60
Separate but equal

by Thomas C. Fleming, Nov 11, 1998

During the 1930s, I was a college student at three different campuses in Northern California -- Chico State College, the University of California at Berkeley, and San Francisco State College. The only segregated schools in the state at that time were the public schools in the Imperial Valley, on the Mexican border, inland from San Diego County. Most students in those schools were Mexicans, and blacks were placed there too.

From my observation, there were always slightly more black women going to college than black males, even though their job opportunities were more limited. Most women graduates went into teaching or nursing. A smattering became doctors or dentists. There weren't many jobs for black secretaries then. For clerical work, both black men and women could get civil service jobs, particularly in the post office or the customs service, but not in private industry.

Only two places in California would black teachers in the public schools -- the Imperial Valley, and the city of Los Angeles, which probably had more than half the black population of the state. Oakland, where the second largest number of blacks lived, had one black teacher, Ida Jackson. She was already teaching grade school when I moved to the San Francisco Bay Area in 1926, but they didn't let any more after her for a long time. San Francisco didn't hire its first black teacher until 1944, and that was for a parochial school.
Fred Roberts, the first black politician to hold statewide office
in California. (Courtesy of Northern California Center
for Afro-American History and Life Collection.)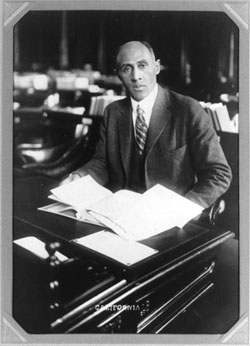 Los Angeles had black teachers, black cops and black firemen before anywhere else in the state. It was first politically for a long time. The first black member of the California legislature, Fred Roberts, who served in the state Assembly from 1919 to 1934, was from Los Angeles. Also the second member, Augustus Hawkins. And Los Angeles had blacks on the city council way before they had them on the board of supervisors in San Francisco, or on the city council in Oakland.

The University of California at Berkeley didn't have any black faculty members in the early 1930s, but UCLA did. I knew a black man named Joe Gier, who attended UC Berkeley then, and when he graduated in engineering, they offered him some sort of a job at Berkeley. But UCLA offered to make him an assistant professor in the engineering department, so he went down there.

The sisters of two guys I knew had to move to the Imperial Valley, 600 miles from San Francisco, so they could get teaching jobs. Black women knew that if they couldn't teach in California, they could go to the Deep South and get a job there, because the schools were segregated by state law.

In the early 1930s, blacks were excluded from all white colleges in the South. So every state government had to fund a black state college -- either that, or open up their existing school to blacks. Separate but equal: that's what the white Southern politicians called it. But they weren't equal. They didn't spend the same amount of money. They didn't have the graduate departments that the white schools had. They weren't equipped like the white schools were.

None of the Historic Black Colleges were located on the West Coast. They were mostly in the South. In the North, there was Lincoln University in Pennsylvania and Wilberforce University in Ohio. Some of the Historic Black Colleges were founded by blacks, and others by whites.

The teaching at the state-operated black colleges was possibly as good as it was at the white colleges, because to get a job there, you had to have a graduate degree, which came from a white university outside of the South. I looked at Tulane University of Louisiana in New Orleans and Duke University in Durham, North Carolina as being about the only good academic schools in the South.

With a degree from a Historic Black College, you could get into most graduate departments at white universities. But I don't think the black schools, with the exception of Howard University in Washington, D.C., measured up, then, to the white schools. Howard was the only one that I would call a complete university. It had a school of dentistry, a school of medicine, a school of nursing, an engineering school. That's what makes the university. In the others, all you could get was a liberal arts education, and you had to go to graduate school somewhere else.

It isn't like that now. But I still don't think most of the Historic Black Colleges are up to a par with Howard or the white universities, because their graduate departments aren't that old.
---
Copyright &copy 1998 by Thomas Fleming. Email.
At 90, Fleming continues to write each week for the Sun-Reporter, San Francisco's African American weekly, which he co-founded in 1944. A 48-page book of his stories and photos from 1907-19 is available for $3, including postage, and a 90-minute cassette tape of his recollections of black life in Florida, Harlem and Chico from 1912-1926 is available for $5, including postage. Send mailing address or call 415-771-6279.
---
Fleming Biography
More Fleming articles
Back to Front Page