Reflections
on
Black
History
______

Part 66
Langston Hughes comes west

by Thomas C. Fleming, Dec 23, 1998

Langston Hughes was one of the leading figures to emerge out of the Black Renaissance of the 1920s and 1930s. The movement was centered in Harlem, where most of the writers and other artists lived. After all, the majority of the big publishing houses were located along the East Coast, primarily in New York City. All of the big monthly and weekly periodicals had their editorial offices in the Big Apple, and of course the American theater was and still is centered there.

Langston Hughes. (NAACP photo.)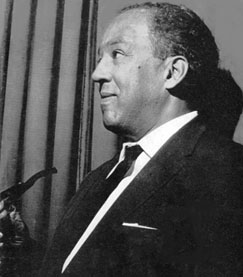 I first met Hughes about 1934, at a dance at Sweet's Ballroom in Oakland, where Jimmie Lunceford and his band were appearing. This was the night when blacks were admitted; all of the bands appeared at Sweet's one night for whites and one for blacks.

Hughes had just come from Cuba. I felt drawn to him immediately, for neither of us felt any restraints in talking about THE problem, which was race relations, as it is today.

He had a very thorough knowledge of people with no visible source of income, who earn their living by their wits. He was a survivalist, which he so graphically displayed in the fictitious character Simple, in the column he wrote for the Chicago Defender every week. Simple was always trying to figure out ways he could take care of any matters that demanded the use of money. I think he was talking about himself, because Langston was always short in cash.

He must have stopped at pool halls at lot, because he certainly was familiar with those people. I think it amazed him at first, how these guys existed, with their street logic. And because of his literary skills, he was invited to homes of what we'd call the black bourgeoisie. He wrote about black people all the time -- not the big blacks, but the little blacks, because they were far more numerous.

He was always trying to get a little bit of money so he could send it to his mother. She depended on him. He never married that I know of. He and Zora Hurston had a sort of engagement, but he never did explain it clearly, and Zora never said anything at all.

Hughes was staying in San Francisco, at the luxurious home of Noel Sullivan, a wealthy patron of the arts who had the urge to be a singer of note, but had an indifferent voice of no recognizable pitch or tone. Sullivan, a white man, liked to be around talented people, and had money enough to attract those who shared his interests. All of the foremost black entertainers and artists found the welcome mat at the Sullivan mansion, located on Telegraph Hill. He offered his home to Marian Anderson, Paul Robeson, Hughes and others when they came to the city.

Hughes stayed around San Francisco for three or four months. I used to see him quite often after I met him, because he would have parties in Noel Sullivan's house and I would always get invited. The guest list was interracial -- blacks and whites of the literary and artistic world. On my first visit to a Hughes soiree, I told Sullivan that I had fished and hunted on the Phelan Ranch in Chico, and he seemed pleased that I was aware of his properties outside of the city.

Hughes was very close to Sullivan. He had a suite of rooms in the mansion and a well-trained staff of housekeepers to wait and serve him.

Sullivan and his sister were the sole heirs of James Phelan, a millionaire who was a Democrat -- a real rarity in San Francisco then. Phelan had served as mayor of San Francisco, and later U.S. senator from California.

The senator also owned the Phelan Building, a large office building in downtown San Francisco. He had the 12,000-acre Phelan Ranch outside of Chico, where I had grown up, and a second ranch of the same acreage 20 miles away. Another parcel of the inheritance was a great mansion down in Asilomar near Monterey, right off the ocean, staffed with servants, where Hughes spent probably another six weeks before leaving for New York City.

Hughes depended on many wealthy people for occasional handouts, since there were not too many black writers making a lot of money -- that is, not like Sinclair Lewis, Ernest Hemingway, or even Carl Van Vechten, the white writer who earned national fame for his best-selling novel about the Harlem Renaissance, "Nigger Heaven."

Sullivan knew of the humiliation that black artists faced when they had contracts to appear in music halls in the city. Until World War II, blacks couldn't stay in any good hotels in San Francisco. When such people as Marian Anderson, Paul Robeson and Roland Hayes came to town, most hotels wouldn't register them, and many restaurants refused to serve them.

These included some of the expensive restaurants in Chinatown, such as the Empress of China. The Chinese practiced a lot of discrimination because they were keeping up with what the whites were doing. But the Chinese were discriminated against themselves, worse than we were; they couldn't live outside their boundaries. The Japanese restaurants and inns didn't refuse anybody, as long as you could pay.
---
Copyright &copy 1998 by Thomas Fleming. Email.
At 91, Fleming continues to write each week for the Sun-Reporter, San Francisco's African-American weekly, which he co-founded in 1944. His new 100-page book, Black Life in the Sacramento Valley 1850-1934, is available for $7. Write to Max Millard, 1312 Jackson St. #21, San Francisco CA 94109, or send request to tflemingsf@aol.com.
---
Fleming Biography
More Fleming articles
Back to Front Page