Sargent Johnson and the bohemian life

by Thomas C. Fleming, Feb 3, 1999

In the early 1930s, there were only about 2500 blacks living in San Francisco, or less than 1 percent of the population. You could walk up and down the city's main street, Market Street, all day, and the only black face you'd see was by looking in the big plate glass windows and seeing your own reflection.

For the most part, blacks were barred from attending the nightlife entertainment, and you couldn't eat in "first-class" restaurants, if I can use that term.

Chinatown was a popular tourist area, and some of the fancy restaurants there refused to serve blacks -- even artists like Marian Anderson, Paul Robeson and Roland Hayes. And naturally the story came back to the black community.

The Chinese in California were segregated more than the blacks. They couldn't buy a home outside of Chinatown. But in some of those restaurants, they would flatly tell you to leave. They did it because they thought the white people wanted it that way.

You never knew when you were going to run up against these unpleasant situations, so you tried to avoid them if you could. Once during the 1930s, I was in Chinatown with another black guy, and we took a chance by going into a bar called the Pagoda. We didn't know what sort of a reception we were going to get.

While we were sitting at the bar, some white tourists walked in. They saw us and said to the Chinese bartender, "There's niggers in here. We ain't coming in." The bartender said, "I serve anybody that comes in." We didn't say anything back, because they weren't talking to us.

Next to Chinatown is the North Beach area, where the Italians lived largely. It's still an Italian neighborhood today. That was the one place in the city where blacks were most welcome. You could eat in almost all the restaurants there, and could go into most places where there was live entertainment, because some entertainers were black.

North Beach is the bohemian part of San Francisco, and has been since way before I arrived in California in 1919, because the Barbary Coast was located there. It was an area known for its brothels, bars and entertainment. It was very international and very cosmopolitan. The government persuaded the city to close down the Barbary Coast in World War I, because it was afraid the servicemen would get infectious diseases from those women.

A lot of artists lived over there. One thing that attracted them was that food and drink were cheap. In the 1920s and '30s, there was a famed barkeep in North Beach named Izzy Gomez, a Latino, who operated a pub even through Prohibition. He always saw that you got a drink or a bowl of soup if you came in there, whether you had money or not.

Top artists from all over the United States would go to Izzy's. Diego Rivera and Jose Orozco, the Mexican muralists, used to hang out there, and that attracted the literary people and the working press.

One of Izzy's best customers was Sargent Claude Johnson, the black sculptor and painter. When I met him in the late 1920s, he had already gained an international reputation. He preferred to be called Claude. He had his studio in a small cottage in the backyard of his Berkeley home, and his work was exhibited in New York and other parts of the country. But guys like he and Rivera lived a sort of hand-to-mouth existence.
Sculptor and painter Sargent Johnson (1887-1967)
in his Berkeley, California studio.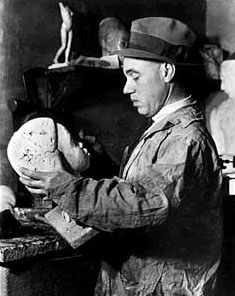 Although Johnson lived in San Francisco from 1915 until his death, his works were exhibited in New York, and he was considered a major figure of the Harlem Renaissance. Some of his siblings passed for white, but Johnson always identified with African Americans. He strove in his art to depict what he called "the natural beauty and dignity" of "the pure American Negro."

At the time, I lived in Berkeley too, as did John Pittman, the founder of the Spokesman, a black newspaper in San Francisco. John and I and Ishamel Flory, a young black communist, would often come around Claude's house on Dohr Street late at night, with a gallon jug of wine. We spent many an evening at the studio, staying up to 3 or 4 o'clock in the morning, talking primarily about the problem. When I say the problem I mean racial issues in America. What we were fighting for was equality of opportunity. That's all we've ever asked for. And Claude was a very strong advocate of that.

On a few occasions, while we were waging our plans for creating a different world, Claude's wife Pearl stormed out of the house clad in her robe, and asked each of us, did we not have a home where we could go to bed, as the hour was early morning, and time for all decent persons to be at home asleep?

She was very bourgeois, and would have been much more interested had Claude been a social figure, and making a lot of money. But he didn't give a damn about that. He liked to be around the people on the streets, and to mingle with everybody.

If Claude had a burst of inspiration he'd stay over in Berkeley. But he spent most of his time at Izzy Gomez's with fellow artists. He'd go there and stay for days, chasing younger women. He lived a very lusty life. I don't think Izzy's ever closed. Maybe Claude would go home with somebody. But not to his wife and daughter.

Claude was a very amusing but intense guy. He liked to have somebody around to talk to all the time. And he was an ultraliberal too, as a lot of talented people in that day were, particularly in the art world.

He later divorced his wife and moved to North Beach. It was in that neighborhood that the beatnik movement started in the 1950s. Claude died in 1967, but his artworks can now be seen in buildings throughout San Francisco, which considers him one of the greatest artists in the city's history.
---
Copyright &copy 1999 by Thomas Fleming.
At 91, Fleming continues to write each week for the Sun-Reporter, San Francisco's African-American weekly, which he co-founded in 1944. His new 100-page book, Black Life in the Sacramento Valley 1850-1934, is available for $7 plus $2 postage. Write to Max Millard, 1312 Jackson St #21, San Francisco CA 94109, or send request to tflemingsf@aol.com.
---
Fleming Biography
More Fleming articles
Back to Front Page