Reflections
on
Black
History
______

Part 70
Working for the WPA

by Thomas C. Fleming, Feb 17, 1999

The election of 1932, when Democrat Franklin D. Roosevelt won the presidency in the depth of the Depression, was a turning point for black voters. Up until Roosevelt's election, the majority of blacks voted Republican. But Herbert Hoover, who was running for re-election, had a platform to make his party lily-white. Blacks who could think for themselves understood that he wanted to uphold all Jim Crow practices.

Hoover had nominated John J. Parker, an ultraconservative from North Carolina, to the Supreme Court. Apparently Parker had been very anti-black in his rulings while serving as a federal judge. The NAACP protested all over the United States, writing letters to senators and congressmen, and holding demonstrations in some cities. The American Civil Liberties Union joined with them, and other white liberals opposed Parker, so that Hoover finally withdrew the nomination.

Roosevelt was sworn into office in March of 1933, and his speeches did much to make people feel that this was not indeed the end of the world. He kept the Congress in constant session, submitting more and more bills that he hoped would make America a better place.

When Roosevelt made his fireside chats over the air, he sounded so cozy, like he was in your own home. When I heard his voice, I felt that he was a friend. Not only blacks, but labor and everybody else was turning to the Democratic Party. Eleanor Roosevelt enhanced his image even more, because she went all over the country, speaking to blacks in their churches and other places.

In 1934, I dropped out of college in Chico, California and returned to the San Francisco Bay Area, where there was a big waterfront strike that lasted for several months. I had been a member of the Cooks and Waiters Union, and supported the strikers, but shame leaves you when you're hungry. When you have nothing, you'll take anything.

I joined about a dozen black guys who showed up in Oakland one evening to try to get work as scabs. The truck arrived, but it wasn't what we expected. Longshoremen jumped out and came after us with baseball bats. I ran all the way back to Berkeley. I didn't see if anybody got hit, because I was running for my life.

The waterfront owners made one ship into a dormitory ship, where the scabs could sleep and eat. They could work as many hours as they wanted, but they had nowhere to spend their money. The owners didn't ask you what you were doing when you came on the dormitory ship, so one of my enterprising friends came over on the launch like everybody else, but brought his dice with him and started a crap game on board. He never did go out and work. He was running the game, so naturally he made a lot of money.

Nobody wanted relief work, because we thought of it as welfare. But when Roosevelt started the Works Progress Administration, WPA, in 1935, it was a lifesaver to me and many others who I knew then.

Roosevelt looked at all of those who were jobless and homeless as being in the same boat. Under the WPA, the government did not discriminate, and blacks in need of jobs got jobs. When they put in a new sewer system in Oakland, I saw a lot of black laborers, working along with white workers.
Public works project in San Francisco during the Great Depression.
(Photo courtesy of the Museum of the City of San Francisco.)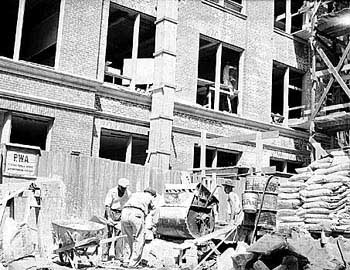 I got a WPA job right away, and dug ditches for one or two days. Then they found out I had more than two years of college, and that I had done some writing for the Oakland Tribune. So they sent me out to the Federal Writers Project at Bancroft Library on the campus of the University of California at Berkeley. It paid $94 a month; that was the top pay they gave you on WPA. The unskilled workers got about $60 a month.

With rents being no more than $2.50 a week in the Bay Area, this salary was most attractive. One could rent a five-room house for $18 monthly, and for about $10 more, a large two-story house anywhere in the Bay Area. For about 12 cents, you could get a quart of milk, a pound of stewing beef or a loaf of bread. A top sirloin steak cost 18 to 20 cents a pound.

There were roughly 30 people in our group, all very talented, and all liberals. A couple of them had Ph.D's. Most of them had worked on small newspapers or trade papers. We did research work on the history of California, because the library had the greatest collection of California history books in the state. We wrote our notes by hand, then typed it later, or just sent our notebooks in. I don't know what they ever did with that stuff.

These guys were rebels. One of the first things they did was to form a union. They were always demanding certain changes of the government, and threatening to strike if we did not receive a higher wage. The Federal Writers Project was the most rebellious unit in the WPA, and got in disfavor all over the country.

The job only lasted about six months, because the funds ran out for that particular project. I was the only black person in the group, and they accepted me as a colleague. But even though I did the same work as they did for the WPA, I knew I could not get a job on a daily newspaper, because there were only two in the country that hired a black reporter -- the Boston Globe and the New York Post.
---
Copyright &copy 1999 by Thomas Fleming.
At 91, Fleming continues to write each week for the Sun-Reporter, San Francisco's African-American weekly, which he co-founded in 1944. His new 100-page book, Black Life in the Sacramento Valley 1850-1934, is available for $7 plus $2 postage. Write to Max Millard, 1312 Jackson St #21, San Francisco CA 94109, or send request to tflemingsf@aol.com.
---
Fleming Biography
More Fleming articles
Back to Front Page