Langston Hughes goes to Russia

by Thomas C. Fleming, Mar 3, 1999

Around 1934, I attended a dance at Sweet's Ballroom in downtown Oakland, California. It was one of the nights that was allocated to blacks; the two races never attended the dances on the same night.

I came to hear the Jimmie Lunceford band, which had replaced Cab Calloway as the house band at the Cotton Club in New York City. At the dance I encountered Mason Robeson. He worked for the Spokesman, an ultraliberal black weekly in San Francisco, and later worked for the People's World, a Communist daily.

I noted that Mason was with a short, brown-skinned man. Mason asked me, had I met Lang yet? Then he explained that the man with him was Langston Hughes.

I knew Hughes as a poet and a playwright, from reading about him in the Pittsburgh Courier, the New York Amsterdam News and the Baltimore Afro-American, all of them powerful black weekly papers that enjoyed national circulations.
A young Langston Hughes. From the publication of his first book of poetry
in 1926, The Weary Blues, until his death in 1967, he was one
of black America's most revered and prolific writers.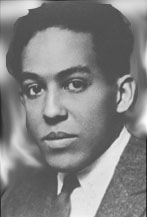 I shook hands with Hughes and joined in the conversation. He was friendly and outgoing -- one of easiest persons to meet. Nobody at the dance knew who he was. Maybe they'd never seen him. Mason was taking him around, because Langston was staying in San Francisco.

I didn't read much of his poetry. I never cared much for poetry, no matter who wrote it. But I read his other stuff. There was a voice of protest through his poetry and plays. He wrote in a subtle manner about the differences in the races, and the stark realism of racism in the country.

He wrote a play called Mulatto, which ran on Broadway. It didn't last very long because the message was too powerful, I think: it showed the evils of miscegenation -- white men having children by black women -- and what the children would encounter later on in life. Some of them didn't know what their race was. After it closed in New York, he took it on the road, and it played at the Alcazar Theater in San Francisco.

A wealthy white woman in New York used to send him money. He would write to her to get a loan when he needed it, and it looked like he needed it most of the time, because he led a sort of carefree life. He didn't worry too much about what tomorrow would bring. But he always had an obligation to help his mother out, and if he had anything, he would send it to her.

His character Simple, in the Chicago Defender, had a sort of street logic, and was always thinking of some way he could take care of his immediate bills. Simple was sharp in mind but always low in cash.

Hughes was one of a party of 22 black intellectuals who made a trip to the Soviet Union in 1932. Of course, their fares and hotel accommodations were paid for by the Soviets. Two blacks from the Bay Area were part of the group -- Matt Crawford, a chiropractor, and Louise Thompson, who had graduated from the University of California at Berkeley in the days when as few as 30 blacks were enrolled at the school, out of about 18,000 students. Both were lifelong socialists.

The group left the Soviet Union after a few months, but Hughes stayed for over a year. He took the famed Trans-Siberian train from Moscow to Vladivostok, that runs about 5000 miles. From there, he took a ship to Japan, but the Japanese forced him to leave, suspecting him of being a Communist spy. He took another ship back home.

Hughes's father lived in Mexico, and Langston had gone down there to visit him. He said the Mexicans looked at what you had in your pocket; they didn't discriminate as long as you could pay your way. And they didn't prohibit intermarriage down there either, because so many of them were dark-skinned.

Hughes had a suit and a tie on, most of the time I saw him. I was close to Mason Robeson and Roy Blackburn, and those were the two people Hughes was closest to, along with Matt Crawford.

Whenever there was a party for Langston, I would get invited. Langston was staying in a mansion on Hyde Street on Russian Hill as a guest of Noel Sullivan, a wealthy white man who was a patron of the arts. Most inns and hotels in San Francisco, and some restaurants, refused to serve blacks, including internationally known artists, so Sullivan opened up his home to them. Hughes also spent some time with Matt Crawford and his family in Berkeley.

Roy Blackburn was Langston's personal secretary, who worked with him in San Francisco and at Sullivan's estate in Carmel. But I don't think any money ever changed hands, because Langston was always short of money, and Roy wanted to be identified with him because he was a celebrity.

I never thought about Sullivan's politics, because I looked at him the same way I do the Rockefellers: they gave a lot to black education. They didn't want to have anything to do with communism, any more than Sullivan did, because there's that reputation that the Communists want to seize all private property.

The NAACP had been carrying the ball for a long time, for complete equality of opportunity. The Communists recognized that we were second-class citizens here, so they thought it would be a very fertile field for them. That's how they directed their tactics of getting blacks to join them. The Communists worked in the trade union movement, and tried to convert everyone in the unions to be Communists too.

Some blacks rose up to be national spokesmen for the party, like William Patterson, who was from San Francisco. He graduated from UC Berkeley, attended law school and became a lawyer. He lived for several years in Moscow in the early 1920s, then returned to the United States, and later married Louise Thompson. He was the Communist Party's candidate for vice president in one of the presidential campaigns. I think the Communists did that to show that they had no racial prejudice.
---
Copyright &copy 1999 by Thomas Fleming.
At 91, Fleming continues to write each week for the Sun-Reporter, San Francisco's African-American weekly, which he co-founded in 1944. His new 100-page book, Black Life in the Sacramento Valley 1850-1934, is available for $7 plus $2 postage. Write to Max Millard, 1312 Jackson St #21, San Francisco CA 94109, or send request to tflemingsf@aol.com.
---
Fleming Biography
More Fleming articles
Back to Front Page