Reflections
on
Black
History
______

Part 83
The Black Cabinet

by Thomas C. Fleming, Sep 8, 1999

When President Franklin D. Roosevelt came into office in 1933, just about everything was closed down, all over the country. The government had to get in there and do something to restore confidence. Roosevelt was trying everything he could to get the nation out of the Depression. Everybody -- that is, the jobless and homeless -- began to feel that maybe this man would make things better.

Out of this period of massive homelessness came relief funds from Washington. I don't know if blacks and whites had equal access to Roosevelt's programs; I couldn't look at the whole picture. But I got a job for the WPA right away, and I saw other black males working; the bulk of them were nonprofessionals, and held jobs as laborers.

There weren't a lot of blacks voting then. Blacks had always looked toward the Republicans, because Abraham Lincoln was a Republican. Some blacks thought that Democrats had horns. All members of the House and Senate in the South were Democrats, and they wouldn't even let blacks register to vote as Democrats. Washington didn't care anything about it then, because there was a succession of Republican presidents all through the 1920s, and none of them were like Lincoln.

Herbert Hoover, the Republican president elected in 1928, proved to be such a churl. Blacks knew how he felt about them. Roosevelt did a hell of a lot more than any did Hoover, Coolidge, Harding or Wilson. He had a Black Cabinet. They didn't have anything.

The Black Cabinet wasn't Cabinet rank; Roosevelt never named a black to the Cabinet. But nobody had ever done what he did in appointing blacks to high posts. They had more power than they'd ever had. The Black Cabinet served as sort of an advisory role. It included William Henry Hastie, Walter White, Robert C. Weaver, and Mary McLeod Bethune, who was a close confidant of Eleanor Roosevelt and a frequent visitor at the White House. There was one black member of Congress, Arthur Mitchell, who defeated Oscar De Priest in Chicago in 1934.

Felix Frankfurter recommended a lot of those blacks there, because they had gone to Harvard Law School. They were called "Frankfurter hot dogs," because they were all bright guys in school. Before Frankfurter was a Supreme Court Justice, he was a distinguished professor at Harvard Law School.

The Black Cabinet were working for the government. They didn't just stay in Washington; they went out over the country to talk about the war effort. I saw Hastie when he came out to California. Hastie and Weaver had a lot of influence with Roosevelt; they could get to him probably quicker than any other black, except for Mrs. Bethune.
Mary McLeod Bethune (1875-1955), founder of Bethune-Cookman College, was one of the foremost members of the Black Cabinet. In 1935, she founded the National Counsel of Negro Women, which still exists today. From 1936-44 she was President Roosevelt's special adviser on Minority Affairs, while simultaneously serving as director of the Division of Negro Affairs of the National Youth Administration. When she took this office, she became the first black woman ever to head a federal agency.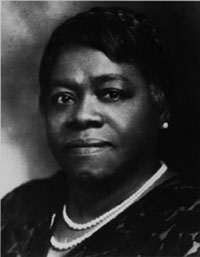 Ma Bethune could go in the White House anytime she wanted. She was president of Bethune-Cookman College in Daytona, Florida. She became very tight with Eleanor, and was given certain assignments to try to alleviate racial tensions during the war.

Eleanor had a daily newspaper column, "My Day," which appeared in the Scripps-Howard papers. The San Francisco News was part of that chain, and I used to read it every day. She had a lot to talk about: she was traveling all the time. She went overseas to visit our boys -- to the Pacific and Europe both, several times.

Westbrook Pegler used to give her a bad time. He was a columnist for the Scripps-Howard papers too, and their columns might be on the same page. I think that's the first time Westbrook ever ran up against a woman with a lot of brain power, and he didn't know how to take it. He stayed on her all the time. I guess he was just anti-feminist; he didn't like the idea of a woman being given the same equality in society that he enjoyed. She ignored Pegler, which was the best way to do it.

Marian Anderson's concert at the Lincoln Memorial in 1939 was very significant, because it showed that Mrs. Roosevelt was opposed to racial segregation. She might have been a little more liberal than her husband, because she didn't have the responsibility of being president, and she got out and confronted these situations on the streets.

A lot of people didn't think the president's wife should be doing all that traveling and getting into the many things she did. It was a new phase in her life. She had remained pregnant all of her younger life, had stayed home and raised five or six kids. By the time she moved into the White House, they were all grown.

No other first lady has done all the things she did. You could see by her actions that she believed black people were people like anybody else.
---
Copyright &copy 1999 by Thomas Fleming and Max Millard.
Produced exclusively for the Columbus Free Press, this column is edited by Max Millard, who has conducted over 100 hours of interviews with Fleming, and blends Fleming's spoken words with his writings. Born in 1907, Fleming is the founding editor of the Sun-Reporter, San Francisco's oldest weekly black newspaper. Thomas Fleming's 48-page book of stories and photos about his boyhood in Harlem is available for $3 plus $1 postage. Write to Max Millard, 1312 Jackson St., #21, San Francisco, CA 94109.
---
Fleming Biography
More Fleming articles
Back to Front Page