Reflections
on
Black
History
______

Part 86
Black Radio Entertainers

by Thomas C. Fleming, Feb 18, 2003

Jazz owes a lot of its popularity to the phonograph, going back to the early days, when Thomas Edison invented the musical box that brought jazz to people who lived outside of the areas where jazz musicians played. Through phonograph records, they could hear the music of such people as "King" Joe Oliver. He was the first of the legendary great trumpet players to come out of New Orleans, the city where most experts in the field say that jazz originated. Jazz was played in the whorehouses in that city, and Louis Armstrong credits Oliver as being one person from whom he learned his style of playing trumpet.

The earliest phonographs I remember were the old type; you would wind the machine up in the same manner that one wound a clock or watch, until you could wind no longer. Then you placed the record on the turntable and turned on the switch, and the music would blare out of the megaphones. Most records sounded very tinny, but the volume could be raised or lowered by another switch.

The first electric phonographs made the music sound much better, and there was a constant improvement in the machines until the 1920s, when radios began to be produced at the electronics plants.

Some record companies, like Victor, Columbia, Brunswick and Vocalion, recorded black entertainers, such as the comedy team of Miller and Lyles, Bert Williams, Bessie Smith, Mamie Smith, and Ethel Waters, who made the big time, appearing on the Broadway stage. Plus she was a headliner on tour for the Orpheum Circuit, which gave performers an opportunity to become nationally famous.

Decca Records hit the market about 1925, and featured more black entertainers than the others, including Jimmie Lunceford, Chick Webb and Ella Fitzgerald, who became a star at 17 when she won an Amateur Night contest at the Apollo Theater.

Jazz reached its height after the repeal of Prohibition in 1933, when liquor could legally be sold by the glass. All the bars or taverns had large jukeboxes containing all the hits.

Black musicians appeared on the white-owned radio stations as far back as the 1920s. Ethel Waters was probably the first great black female singer to sing both pop songs and blues numbers on the radio; she was first to get really into the white world.

Fats Waller was also frequent. I recall him singing two recordings of "Honeysuckle Rose," once accompanying himself on piano and the other time with his group. It became one of his biggest hits. He was as well-known for the songs he was composing as he was as a vocalist. And Louis Armstrong was played on the radio very early in his career. Everybody loved his style of singing. Like most successful black musicians of the time, he played both Negro music and popular music.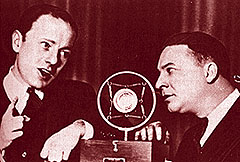 Freeman Gosden (l.) and Charles Correll, creators of Amos 'n' Andy, portrayed all the male voices on the radio show from 1928 until 1943. The series concerned two young black men from Georgia who moved to Harlem to seek their fortunes, and derived its humor from racial stereotypes. The radio series continued until 1960. A television version starring black actors ran on CBS from 1951-53, then appeared in reruns until 1966, when it was driven off the air by protests from the NAACP.



In the San Francisco Bay Area, it was station KRE in Berkeley that furnished a seven-day-a-week jazz menu, and kept jazz lovers up to date on the different artists. KRE was the station that first presented the Mills Brothers, who as a group of four brothers, sounded just like musical instruments. They were a national sensation, but we only heard them on the air. They never came to Northern California, but they did play in Los Angeles.

Opportunities for blacks in radio were very limited in the 1920s and 1930s. The radio stations created their own celebrities. They had people who performed from the studio, and they didn't have to depend upon records. Most radio stations had a policy of not hiring black entertainers.

The first black entertainer to get on a radio show in San Francisco was Henry Starr, a fine Oakland-born musician. He had left Oakland in the 1920s to work in Los Angeles and on the East Coast as a piano player, with some of the very good black entertainers of that period. He was gone for a long time before he came back home. Then he was hired as a star of a variety show known as the Edna Fischer Show on KFRC in San Francisco. It became very popular. Thousands of listeners turned their radios on every morning, and the names of the stars were well-known locally.

Starr sang and accompanied himself on the piano. Rumors were that he was paid $100 every week, which was a lot of money in 1929 for anyone. Houses then sold for less than $5000.

Starting in 1928, one of the most popular radio shows across the country was Amos 'n' Andy. Blacks listened along with the general population. I think everybody enjoyed the comedy at first, even though they knew the actors weren't black men. Everybody was listening to it, because that's the talk I heard.

Guys were even quoting the way they were trying to use that speech form, as a joke. It was always in a manner that they thought blacks spoke -- uneducated people who mangled the King's English. I imagine you did hear people talking like that in some areas of the rural South. Because I could see the difference in the way blacks talked, when I came out to California.

I held mixed emotions about the two white comics who blacked their faces and used what they called a black form of speech on their highly profitable show. A lot of people began to realize blacks were depicted as being buffoons and fools in the show. I took some comfort in that their portrayal was not like any black people I personally knew.
---
Copyright &copy 2003 by Thomas Fleming and Max Millard.
Produced exclusively for the Columbus Free Press, this column is edited by Max Millard, who has conducted over 100 hours of interviews with Fleming, and blends Fleming's spoken words with his writings. Born in 1907, Fleming is the founding editor of the Sun-Reporter, San Francisco's oldest weekly black newspaper. Thomas Fleming's 48-page book of stories and photos about his boyhood in Harlem is available for $3 plus $1 postage. Write to Max Millard, 1312 Jackson St., #21, San Francisco, CA 94109.
---
Fleming Biography
More Fleming articles
Back to Front Page