Over forty-five members of CMAGE/CWA Local 4502 flooded the Columbus City Council Session last Monday night, October 19th 2009. The Union represents workers from all departments of the City of Columbus, including the Columbus Police and Fire Departments and Parks and Recreation, and includes professional and technical staff and supervisors.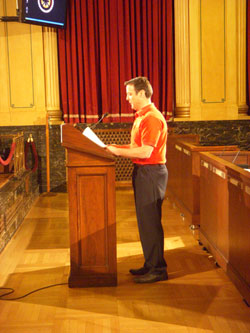 Brian Bellous, President of Local 4502, gave a short presentation to City Council on the collective bargaining contract currently being negotiated between the Union and the City.
According to Bellous, members of CMAGE/CWA Local 4502 have not received a wage increase since August 2007, while other workers received raises in 2008 and 2009. In 2008 the Mayor and his staff, City Council, Firefighters, and AFSCME staff all received a 3% raise. In 2009 firefighters received an additional 4% raise, and AFSCME received a 3% raise, while CWA members got nothing.
Bellous stated that members of CMAGE/CWA "had been left to carry the financial burden" during these hard economic times. "Approximately fifty members were laid off, merit increases were denied, [and] demotions were required to save some people's jobs."
The situation became so unacceptable for the members that the last contract offered by the City was voted down. Many supervisors in their unit make less than their staff, which makes it difficult to retain quality employees. Bellous pointed to the need to appreciate Union members' contributions to the City, and asked for attention to fairness in the allocation of public dollars.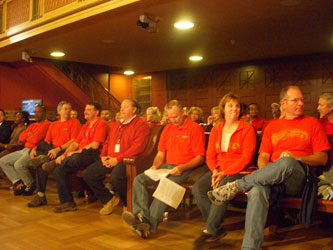 After Bellous finished speaking, President of City Council, Michael Mentel, encouraged the Union to continue its dialogue with the City bargaining team. Once the parties reach a consensus on a contract, he said, it will go before City Council for ratification.
Bellous said that the Union and the City have been in negotiations for over 13 months. They will go to the negotiating table next Monday and hope to come out with a contract the City employees can live with.
Mark Stansberry, a Union member who works for Columbus Parks and Recreation, said that this was the first time in the contract process that the Union tried to gain the attention of City Council for their demand for respect in the collective bargaining process. Union members felt that the timing was appropriate since the Columbus City Fire Department was getting a wage increase passed by the Council during this Session.
When asked about the expected outcome of the negotiations, Stansberry, said that they hope for "a fair, just and equitable contract."
--
Connie Gaddell-Newton is a member of the CICJ Board.