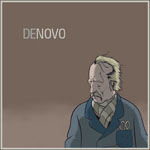 I've been friends with the guys in Denovo for I don't know how long – hell, I was in bands with some of them. I listened to Jason, Marc, Chris and Sean write these songs. But I've moved, and Sunday is no longer dominated by Denovo practice day. While my life is a little quieter, it lacks the right soundtrack.
But my problem has been solved. Heartfelt, raw – somewhere between indie rock and hardcore – Denovo's new seven-inch masters melodic, post-hardcore. While I've drifted away from a lot of indie records in the past couple of years, Denovo pulls me back with their authenticity and ingenuity.
On the instrument side, Denovo skillfully juxtaposes driving bass lines and creative drum work with guitars that alternate between fret-board acrobatics and driving synchronicity. The vocals are clean, heartfelt and complete Denovo's sound. Sean met the other guys during the
years
Special Aviation Project, Denovo's predecessor, was searching for a singer. When you listen to the seven-inch, you know why their search stopped with him.
The three tracks include two originals: "I'll be the cord cutter" and "Words for Potentially Millions". The B-side includes their appropriation of Peter Gabriel's "Digging in the Dirt".
"I'll be the Cord Cutter" is energetic and liberating. You'll wish that the song would last all day.
The darker "Words for Potentially Millions" grabs you by the neck and makes you dance around your room and remember what
it's
all about.
"Digging in the Dirt" is simultaneously beautiful and jarring – Denovo has given the song a life of its own.
On a somewhat superficial level, the illustrations were done by comic book artist Paul Hornschemeier, and nicely complement the record.
The only problem is that Denovo won't be recording their full-length for some time – try not to wear out this teaser before the time comes.
This seven inch will rock you. Buy it now.
www.creodenovo.com
If you're lucky enough to be reading this review before Friday, May 23, check them out at their record release party at Little Brother's. Check out the calendar for more information.