COLUMBUS, OHIO---"I'm running for Queen of the World," says Bette Midler, who may already have won the title.  "I'm sure I can do a better job than that schmuck in the White House."
For those of you unfamiliar with the Yiddish language, the word "schmuck" has many translations, but "duly elected competent and honorable President of the United States" is not among them. 
As for Ms. Midler, words---even in Yiddish---fail to describe her talent, range, wit and humor, though "Divine" is a good start.  Her Saturday night "Kiss My Brass" show here at a packed Nationwide Arena (population: about 7,500) was a total knockout.  Anyone in a city about to be graced by her amazing tour (check
www.bettemidler.com
) should get thee to the venue.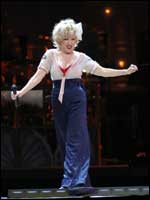 For years Bette Midler has taken unbounded guff from mainstream reviewers, and her outspoken political views may be part of the reason.  She does not hide what she thinks of the right-wing jerks currently running this country (or much else for that matter).  A brilliant riff culminating in the confirmation of Rush Limbaugh as an "oxy-moron" was the least of it.  In retaliation, the faux geniuses that evaluate American popular culture have faulted her for everything from her TV shows, humor, singing and film career to the gay swish of her you-name-it wardrobe.   
But if "Kiss My Brass" is any indication, there's virtually nothing this woman can't do short of balancing Bush's federal budget.  With a signature over-the-top set, spare-no-expense orchestra and dance crew, and material to die for (including a great tribute to 1950s idol Rosemary Clooney), Midler put on an exhausting and gratifying carnival that covered the roster of possible entertainments from high camp to ballet to bathroom humor to social commentary to TV extravaganza to ballad to astonishing solo vocal virtuosity.
About the latter:  there were four single songs Bette sang that were complete knockouts.  The obligatory theme from "Beaches," the spiritual "From a Distance" and the lyrically perfect "Rose" she sang with immaculate clarity and charisma.  Those were the three she predictably chose to end the show.  They were all spot on.
But the one that killed me came late in the first set.  "When a Man Loves a Woman" wasn't exactly what I expected to hear from this buxom lass.  But I've never heard it sung better or more powerfully.  For me, at least, it nailed, punctuated, grounded a wild, deliciously wacky show with a statement that said:  "Hey, this woman can REALLY sing." 
For those who've seen her shows, there's no need to describe what she does.  For those who haven't, there's no way to except to say "see it!" 
Just one mild suggestion:  the pageant ends with a presentation of "The Rose" that overlays footage from the movie classic, which was mighty powerful but mighty depressing.  The song itself is a lyric masterpiece which is ultimately optimistic, even liberating, especially when sung by the Queen herself. 
The footage on the big screen could thus have been a bit more uplifting. Against all odds, Bette seems in better shape now than when that film was made so many years ago.  Me, I found the movie clips distracting.  The real Rose is healthier and stronger and more riveting than ever...certainly a worthier candidate for global leadership than the schmuck in the White House. 
So with talent so clearly on loan from the Divine, what better way to end the show than with just that, alone and unadorned? 
See the show, then make your own decision.  There'll be no need to count the ballots. 
The night before Ms. Midler's tour de force our local CAPA put on a nice show at the Palace.  It featured pleasant pop performances from Sheena Easton, Peebo Bryson, Jon Secada and Chris Cross. 
The show featured some sweet Christmas music and some solid performances of classic chestnuts.  The mood in the hall was warm, friendly and thoroughly relaxing, like a holiday celebration should be with a family that actually likes each other.  Lets hope CAPA does something like this again next year. 
Harvey Wasserman is author of HARVEY WASSERMAN'S HISTORY OF THE UNITED STATES and co-author (with Bob Fitrakis) of GEORGE W. BUSH VS. THE SUPERPOWER OF PEACE (
www.freepress.org
).