"Drone warfare has become central to the modern U.S. version of gunboat diplomacy."
With the U.S. and European military offensive in Africa in full swing, the drone wars are set to enter a new phase. Therefore, it is appropriate that U.S. anti-war activists will descend on the White House, on April 13 [10], to demand "Drones Out of Africa and Everywhere!" The activists, including former Georgia Congresswoman Cynthia McKinney and the ANSWER Coalition, say the real target is Africa's vast natural resources. Drone warfare, say the organizers, has become central to the modern U.S. version of gunboat diplomacy, to "force exploitative terms of trade and political accommodations."
The West African nation of Niger has been very accommodating to the Americans, as she has been to the French, the former colonial master. According to a high Niger official [11] quoted by Reuters news service, Niger has "given the green light to accepting American surveillance drones on its soil to improve the collection of intelligence on Islamist movements." However, there is no reason to believe that the U.S. drones will be restricted to unarmed surveillance. Sources in Washington say "there are no constraints to military-to-military co-operation within the agreement" with Niger, which presumably means the U.S. can use the drones as it likes. The U.S. base in northern Niger puts the robotic planes within easy reach of Mali, Algeria and Libya.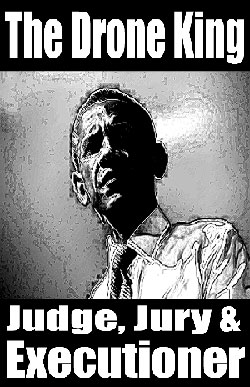 The U.S. already has a drone base in neighboring Burkina Faso, which also borders on Benin, Togo, Ghana, and the Ivory Coast.
"Ethiopia is now home to a new U.S. drone base, as are the Seychelles Islands, offshore in the Indian Ocean."
In East Africa, the U.S. has been terrorizing Somalia with drones since 2006, when it instigated the Ethiopian invasion of Somalia. The U.S. Africa Command, AFRICOM, sends out drones from its large, permanent base in neighboring Djibouti, from which it can watch – or attack - most of the Horn of Africa, including Eritrea, right next door, one of the few countries in Africa that has no relationship with AFRICOM. Eritrea is under constant threat from Ethiopia, from which it won independence after a 30-year war.
Ethiopia is now home to a new U.S. drone base [12], as are the Seychelles Islands [12], offshore in the Indian Ocean and within easy drone range of most of the East African coast: Somalia, Kenya, Tanzania and Mozambique.
In the very heart of the African continent, the 17,000-man United Nations peacekeeping force in the Democratic Republic of Congo wants to use U.S. drones [13] to monitor armed groups in the region, where U.S. Special Forces are also operating. Those drones would be deployed under much the same UN Security Council language that NATO used to launch its war against Libya, in 2011, allowing "all necessary measures…to protect civilians and civilian populated areas under threat of attack."
At the same time, another section of the United Nations is about to launch an investigation into the legality of U.S. drone warfare in Somalia, Yemen and Pakistan. Thus, it is possible that the United Nations Security Council could wind up calling in American drones to attack people in the Congo region, while the U.N.'s special rapporteur for human rights and counterterrorism [14] is investigating whether U.S. drone warfare violates international law.
--------------------
Glen Ford is on Black Agenda Radio and leads the
Black Agenda Report
.
.
Website