Nearly 300 demonstrators braved chilling temperatures in front of Ohio's capitol on Saturday, January 8 in order to "defend Ohio" against the incoming administration of John Kasich. A coalition of labor activists, leftists, progressives, and environmentalists wanted the incoming budget hawk to know that they would not stand for the Buckeye State $8 billion deficit being balanced on the backs of poor and working people.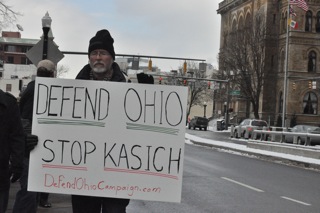 A reoccurring theme at the rally is that the former Lehman Brothers manager would bust out the state of Ohio's remaining assets and enrich his Wall Street buddies instead of rebuilding the infrastructure and creating a high-tech economy.
Prior to his inauguration, Kasich had already drawn the wrath of environmentalists and union activists by refusing to spend $400 million in federal money to link Ohio's largest city, Columbus, to its other major cities, Cleveland and Cincinnati. The so-called 3-C corridor rail project was not only canceled by Kasich, he then had the audacity to demand that the Obama administration allow him to keep the money for undefined purposes. As one activist pointed out, at $50 million a shot, it would probably be bonuses for 8 Lehman Brothers executives.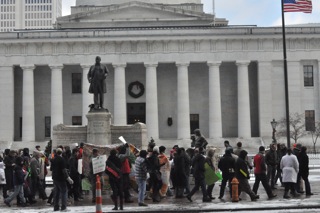 On the morning of the rally, Kasich announced his health care initiative – he would cut Medicaid services for the poor and disabled recipients of the state program, but ask the federal government to allow him to keep the money for other undefined purposes.
Kasich rose to prominence in the early 70s as one of Richard Nixon's freshly scrubbed law-and-order youth corps. After graduating from Ohio State he served as a staffer in the Statehouse with a reputation for not working hard. In 1980 he swept in as a state senator on Ronald Reagan's coattails and in 1982 he was elected to Congress with the visible and bizarre support of the Moonies, at the time, linked to the Korean CIA.
Kasich established his credentials as a budget hawk while ritualistically referring to his father, a postal worker who died in a car crash. Kasich left office to run for president, where he hardly registered any voter interest and went on to work for Lehman Brothers as a managing partner before the company's corrupt and public demise. He was also a commentator on Fox News.
Kasich is in the process of re-defining himself as a man of deep religious faith, as opposed to a man allegedly drunk, who threatened to ban the Grateful Dead from Washington D.C. while he was a Congressman, if he wasn't allowed backstage.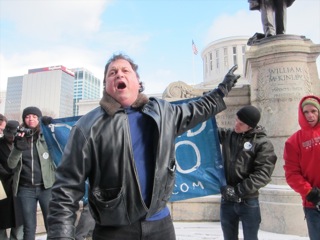 Protestors vowed to defend public workers and their pensions from what they see a predatory threat from a Wall Street bandit, now calling himself the Governor of Ohio.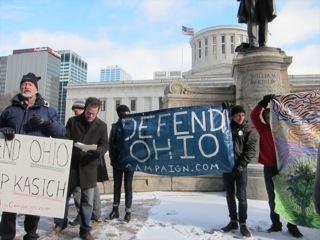 YouTube Video
--
Bob Fitrakis ran for Congress in the 12th district against John Kasich in 1992.