As a BBW model/performer, Kelly is passionate about introducing body positive messages into the media spotlight, and promotes her ongoing mantra of "Confidence is Sexy" through a variety of mediums. A proponent of "intelligent hedonism," Kelly speaks on college campuses and more on how to intelligently navigate female sexuality, negative media messages about size, and bullying, all while developing self-confidence, class, and inner strength.
From her background in design and construction in mainstream film and television production, to performing in front of the camera as the sexually charged figurehead for chubby Asian girls everywhere, Kelly Shibari is a stereotype-breaking tour-de-force. Her Feminist Porn Award-winning site, PaddedKINK, was the premier destination for plus-size fetish performers. Holding the distinct honor of being the only plus-sized performer ever molded for a Fleshlight, Kelly is also the face of harness company SpareParts HardWear®'s plus size line, and made sexy pop culture media site Fleshbot's Top Ten Crush Object List for 2013. Her self-produced, self-marketed DVD, Kelly Shibari is Overloaded, was nominated for both XBIZ and AVN, not just for the DVD itself but also for its marketing campaign. Kelly was named 2013 BBW Performer of the Year at EXXXOTICA's fan-based awards, "The Fannys," and also named Best BBW Performer at the 2013 NightMoves Awards.
Shibari has regularly contributed to adult industry publications such as AVN and XBIZ and directed panels and seminars at conventions, as well as consult with many companies on the use of social media to market adult materials and products through her PR / marketing company, ThePRSMGroup.
Originally from Japan, Kelly currently calls the West Coast her home and constantly confuses her colleagues with her old-fashioned, Eastern sensibilities. The highly accessible Kelly regularly chats with fans and industry peers via her social media accounts on www.Twitter.com/KellyShibari and www.Facebook.com/KellyShibari. For more information, visit www.KellyShibariXXX.com.
I contacted Kelly to ask a few questions about the upcoming release of the DVD, jessica drake's Guide to Wicked Sex: Plus Size. It is the first sex education DVD created for the plus size community. The movie's cast includes beautiful BBW performers Devlyn Red, Angel DeLuca, and Scarlet LaVey, as well as non-performer couples Scarlette Cyn and JC Lewis, and Sherri Shaulis and Michael Colbert; it showcases women of a diverse range of BBW sizes, ranging from size 14 – 24. Kelly Shibari hosts the narration for the bulk of the project, and is also featured in one of the full-length sex scenes provided at the end of the film. The film will be available in the late Spring. It is currently in post-production. It should be available in DVD and VOD formats.
Q. Using the term, plus-size porn actress, what does that mean to you? What political statements does that create for you?
A. I'm not really a "political" person. Because I'm a plus-size performer, I'm considered so, but in all honesty, I'm really just someone that is a "bucket list" person. I want to experience life as much as I can. When the suggestion of entering the porn industry presented itself, I did the proper research. I decided it was actually safer than going on dates in Los Angeles because of the testing protocols that are in place. The plus-size aspect was secondary. The fact that I don't do the "political" thing has in and of itself been controversial, but it's not something that bothers me. On a sociological level, I'm glad that my work (and the work of other BBWs in the industry) has allowed the public to become more open to the notion that "sexy" is not size-defined. Confidence is what makes people sexy and attractive – and I hope that has inspired people to consider their own sexuality, sensuality, and confidence. The feedback I have received, especially from Asian women of size, shows that I seem to be doing something positive, for which I am grateful for the opportunities offered to me. I am not an activist. I'm just someone who enjoys what I do, and if the work I do inspires women (and men) to reconsider their feelings about sexuality, sensuality, and size, then it's something that makes me happy. I do have online exchanges with size-positive people who are much more active in the political arena than I, which is very inspiring. I have a lot of respect for those who are willing to take a stand in the mainstream public and do the work of inspiring others as their daily agenda. My involvement in the "movement" is a by-product of the work I just happen to do. It's not an agenda for me as it is for those whose calling it is to bring attention to plus-size sexuality.
Q. How active were you in formatting the premise of the DVD, jessica drake's Guide to Wicked Sex: Plus Size?
A. Much like the creation of PaddedKINK, the creation of the plus-size sex-ed film resulted simply from seeing a lack of the product. There are outstanding books and blogs on the topic, but no one had bothered to make a film. The sex education films which were available never touched on the topic. I actually had reached out to a few other companies that carry a sex-ed DVD line, and unfortunately, no one was interested until I reached out to jessica drake. I'm not sure if the reason was because of trepidation on covering the topic, or because those companies didn't see a market for a plus-size sex-ed film. Regardless of the reason, I feel things happen when they do for a reason – and jessica drake and Wicked Pictures saying "yes" to collaborating on the project means it was the right time for a film like this to be created. I am incredibly thrilled with what we were able to capture on camera. The content we created for jessica drake's Guide to Wicked Sex: Plus Size is beautiful, with a very cinematic feel. The couples we interviewed were absolutely inspiring, and the performers we cast and the crew all brought their A-game. All the elements combined have helped to create a product not only visually stimulating – it is emotionally empowering. I am extremely happy with this film, and am looking forward to getting it to the public. The film is definitely not an end all and be all. There are people of size who are extremely athletic and flexible. The sex positions we offer in the film in no way means that those are the ONLY positions that work for plus-size couples. The hope is the film will inspire couples, particularly in cities that are not particularly sex-positive, to consider new ways in which to connect and enjoy their sex lives. In terms of logistics, I wrote the script and co-directed with jessica drake. I also host and narrate the majority of the film. jessica also asked me to perform in the film, so I am in one of the position demo scenes as well as one of the three hardcore sex scenes available at the end of the film. jessica and I have been acquainted for around two years. I pitched the project to her about a year ago; she loved the idea immediately. It took about a year after our initial conversation to find the right time to schedule the shoot. We both had other projects already slated. From there, I wrote the film overview and synopsis to Wicked Pictures, then the script. I was also responsible for casting the film. jessica provided all of the production management duties, including the hiring of the crew, locking the filming location, and coordinating the entire shoot. There was so much to cover in this film; our aim was to create a product for couples who may not be in size-positive or size-supportive communities, and we feel we have succeeded. I truly hope this film will help men, women, and couples of size become more confident in their sexuality, explore their amazing bodies, and communicate better as to their relationship and sexual desires. I'm so honored to have jessica and Wicked on board to help realize a project I have been conceptualizing for over four years; it's truly humbling.
Q. What are some of your other Size-Positive projects?
A. I hope that any project I'm affiliated with inspire people of size to feel more confident and sexy about themselves. Other size-positive projects I have been lucky enough to have been asked to collaborate recently is the current Adipositivity calendar, writing for Gasm.com, and the plus-size strap-on harnesses created by SpareParts HardWear. I've also contributed to the plus-size sex portions of Allison Moon's upcoming book, Girl Sex 101, and will be a featured character in Lynsey G's graphic novel, Tracy Queen. I also work with other industry people on projects not necessarily related to size, and am honored to be on Fleshbot's "Crush List" this year.
Q. Your presence is empowering to all people of all sizes, and not just your work in pornography. What are some of your goals as a woman with this presence, power, drive and as a public figure?
A. I would like to continue to experience all of the many amazing things that life will offer me, in adult entertainment and beyond. I hope that people will see past my size and see me just as a strong, confident woman who tackles, and hopefully succeeds in, the various projects I tackle. My goals are not specifically size-driven; rather than self-segregation, I'd love to see collaborations between people of all sizes. I think that would be the most positive thing of all. My goal with jessica drake's Guide to Wicked Sex: Plus Size is to present to men and women – those who are both of size, or if only one is plus-sized, to consider a variety of ways to enjoy their bodies and their sexuality. From communication and body confidence exercises, to suggestions on sex positions that work well for people of size, the film will offer suggestions from which couples can develop their own sex-positive relationships. To view images from jessica drake's Guide to Wicked Sex: Plus Size on the series' official Facebook fan page, click here. For more information on jessica drake's Guide to Wicked Sex, please visit www.GuideToWickedSex.com or www.Twitter.com/jdGTWS.
* * * * * * * * * * * * * * * * * * * * * * * If you have a question or a topic you would like to have covered in this column, please go to: http://ladymonstersex.info and click on the link for the Google form. Or, call (614) 636-0936 and leave a message in my Google Voice Mail Box. Both options are 100% anonymous. Thank you.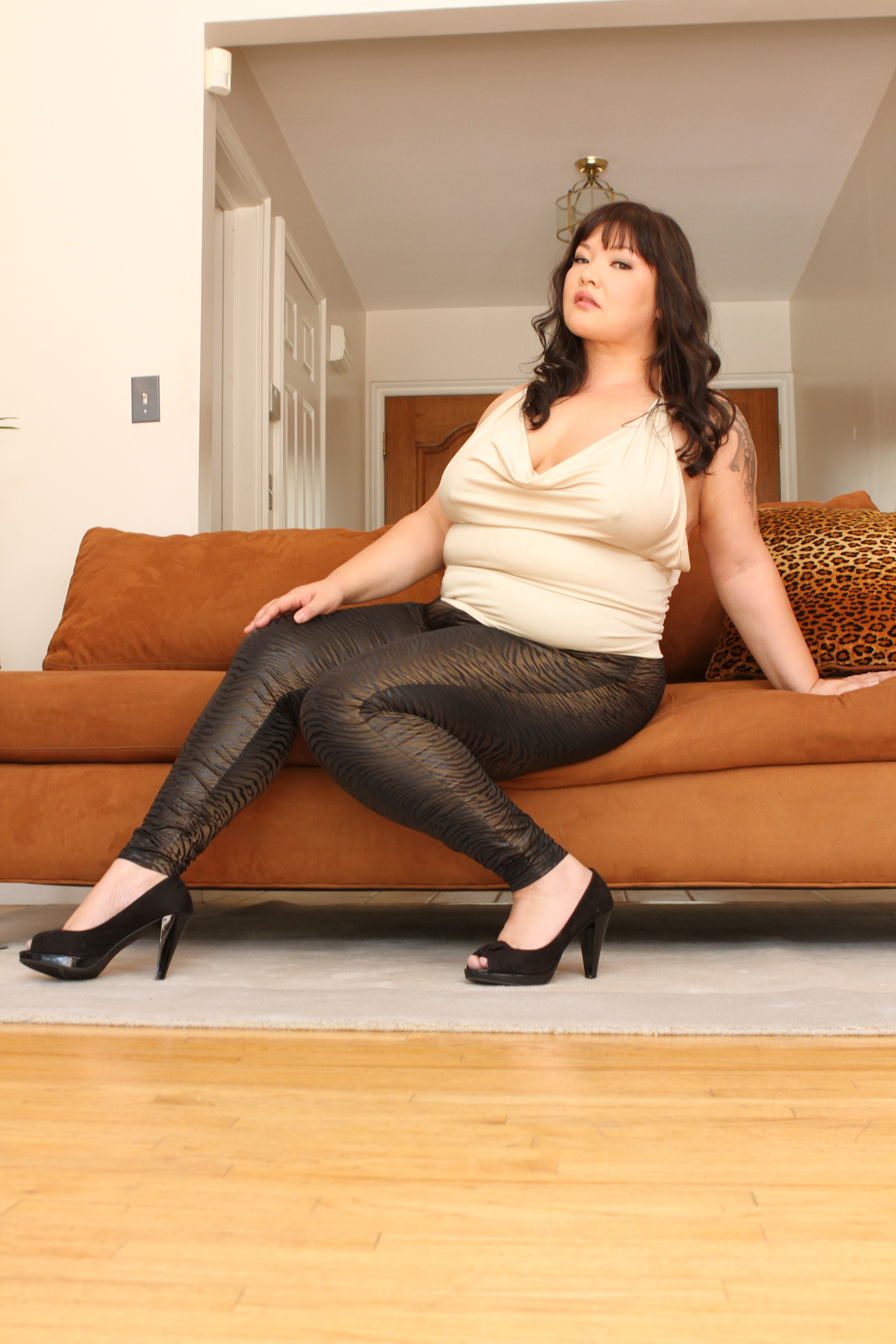 Appears in Issue: