Thirty years ago this month, in the small seacoast town of Seabrook, New Hampshire, a force of mass non-violent green advocacy collided with the nuke establishment.
A definitive victory over corporate power was won. And the global grassroots "No Nukes" movement emerged as one of the most important and effective in human history.
It still writes the bottom line on atomic energy and global warming. All today's green energy battles can be dated to May, 13, 1977, when 550 Clamshell Alliance protestors walked victoriously free after thirteen days of media-saturated imprisonment. Not a single US reactor ordered since that day has been completed.
In the classic tradition of New England democracy, it all started when the tiny town of Seabrook voted four times against the construction of a mammoth twin reactor complex aimed at the salt marshes along its seashore. The site is at the very southeast corner of New Hampshire, where the Granite State meets Massachusetts and the Atlantic. All other towns within a ten-mile radius of the proposed plant joined the opposition, including those in Massachusetts.
The absurdly mis-named Public Service Company of New Hampshire offered the cash-strapped communities major economic bribes. But local stalwarts feared disruption of their lives, destruction of the local fishing industry, ecological desolation of the marshes and the dangers of radiation.
So a de facto coalition rose up that joined extremely conservative locals with the very peace activists they had bitterly denounced for marching against the Vietnam War, which was just ending. Many were new to the environmental cause, having moved to communal farms in rural areas where they became acquainted for the first time with trees, grass and gardens.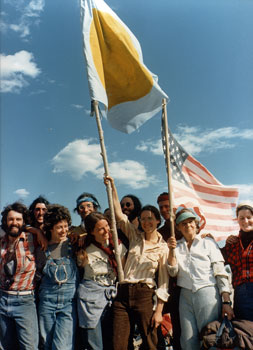 The coalition was joined by Quaker stalwarts from Boston who helped introduce many of the youthful demonstrators to the art and politics of creative non-violence. Forming the Clamshell Alliance, they began small-scale civil disobedience at the Seabrook site, which was just then being bulldozed.
On August 1, 1976, 18 New Hampshirites were arrested there. On August 22, 180 from around New England were dragged away.
In October, at a nearby seaside park, the Alliance staged an Alternative Energy Fair. They drew on the experiences of the Toward Tomorrow Fair, recently held at the University of Massachusetts in Amherst. The conference's godfather was William Heronemus, who pioneered a vision of huge windmill arrays off-shore and in the Great Plains, which he dubbed "the Saudi Arabia of Wind." Also speaking was a young Oxford don named Amory Lovins, who helped conceive an ultra-efficient world powered by renewable energy.
From these gatherings came a "Solartopian" vision of a fossil/nuke-free economy, powered by green energy, that the Clamshell demonstrators carried with them onto the Seabrook site. They were battling not just nuclear power, but an obsolete "King CONG" paradigm centered on coal, oil, nukes and gas. Once the immense resources being wasted on nukes and unclean fossil fuels were shifted to renewables and efficiency, they said, a green-powered Earth would come.
On April 30, 1977, about 2,000 Clams poured onto the Seabrook site from numerous directions. Key to the months of prior planning was the requirement that all who came to occupy the site be trained in small "affinity groups." The sessions included discussions of the theory of non-violence, and active role playing in which demonstrators would take turns practicing the rituals of both arresting and being arrested. (These sessions are documented in the Green Mountain Post film "Training for Non-Violence" available via
www.gmpfilms.com
).
Technically, the Clams' commitment was to shut construction altogether. The theoretical model came from Wyhl, West Germany, where a mass grassroots occupation stopped a proposed nuclear facility. The Wyhl campaign helped birth a social movement that's led to Germany's renunciation of nuke power, a multi-billion-dollar boom in green power and what may be the world's most efficient industrial economy.
New Hampshire's extreme right-wing Gov. Meldrim Thomson wanted none of it. He demanded that the state police bar the demonstrators from the site altogether.
But the patrol was worried about chaos on local highways, especially the nearby Interstate 95. They preferred to let the Clams march onto the bulldozed construction site, where they could be easily herded onto buses and hauled to local courts for arraignment.
The 1414 arrests proceeded deep into the night. No instances of violence were reported, and no one was seriously injured.
The Clams' expectation was to be booked and freed on personal recognizance, as in the previous actions. They had volunteered to be arrested. They had come to state their case that stopping nuke power served a higher good.
But early in the evening, a livid Gov. Thomson helicoptered into the seacoast. He demanded that the detainees from out of state pay bail.
Most refused. In solidarity, so did most of the New Hampshirites.
Next morning, the nation awoke to read that more than a thousand non-violent protestors were being held in five National Guard armories spread around the state of New Hampshire.
At the crucial moment, Thomson's attorney general (none other than David Souter, now a "liberal" associate of the U.S. Supreme Court) swooped into the seacoast and browbeat a local judge into requiring bail. The Clams stiffened. The epic confrontation was on.
The global media had a field day. The Guard in Manchester, the biggest of the armories, was forced to visit a local McDonalds to buy hundreds of hamburgers for their unexpected "guests" (many were vegetarians and would eat only the buns). Gov. Thomson, who constantly railed at neighboring Massachusetts, advocated arming the New Hampshire National Guard with nuclear weapons.
But for the first time ever, the world's print and electronic journalists gave serious focus to nuke power's fatal flaws. The question of whether to build more nukes got the kind of thoughtful, responsive coverage that left the American mainstream with the coming of Ronald Reagan.
Thomson wouldn't budge on bail. Beckoned by jobs and families, a steady flow did exit the armories.
But a hard core stayed. Charles Matthei refused to eat or drink at all. Edgy officers finally put him (gently, and unindicted) out on the street.
Staunch New Hampshire conservatives cringed in embarrassment. The mass imprisonment cost the state's notoriously thrifty taxpayers tens of thousands of dollars per day.
Finally, on Friday, May 13, Thomson caved. Some 550 Clams walked free, pledging to return for their trials (which they did) with no bail posted.
The standoff sparked a global movement against atomic power and for green energy. Dozens of alliances sprouted up at US reactor sites. California's Abalone Alliance led thousands of arrests at Diablo Canyon, perched perilously close to a major earthquake fault. The Trojan Decommissioning Alliance eventually shut Oregon's only nuke. At Pennsylvania's Three Mile Island, protestors demanded---unsuccessfully---that Unit Two not open.
TMI all but undid Jimmy Carter. Carter campaigned in New Hampshire in August, 1976, as the Clamshell staged its first protests. For a documentary crew from Green Mountain Post Films he outlined a series of requirements he pledged to enforce before any new reactor could open. Neither Seabrook nor TMI could meet them. But construction continued at Seabrook anyway. TMI went critical in December, 1978, then melted three months later.
Carter did fund pioneer green energy work at the Solar Energy Research Institute (now the National Renewable Energy Lab) in Golden, Colorado. But the reactor battles proved politically disastrous.
The ultimate blow came when TMI-2 melted in the wee hours of March 28, 1979. Had it not been for the demonstrations at Seabrook and elsewhere, the accident might have garnered a few paragraphs in the local papers.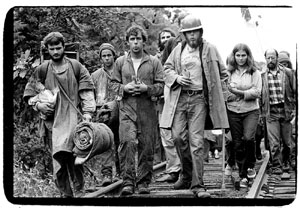 But inspired in part by the protests, Jane Fonda and Michael Douglas's China Syndrome, happened to open in theaters just as TMI went to the brink. The industry took the double body blow of a terrifying disaster and a Hollywood blockbuster.
Ironically, Carter's greatest triumph, the signing of the Camp David accords, had just been consummated at the White House on March 26. For thirty-six hours the president basked in an afterglow that might have helped him coast to re-election.
But, suddenly, there he was in the TMI control room, dressed in protective booties, desperately doing damage control. Had the public and Jimmy Carter's career been spared the openings of Seabrook and TMI, the world might be a very different place.
The grassroots alliances helped drive the nuke industry into dormancy. Seabrook Unit I was eventually finished. But Unit 2 is a rotting hulk, every bit as useless (but not quite as radioactive) as TMI-2.
Richard Nixon had pledged to build 1000 nukes in the US by the year 2000. But the industry peaked at less than 120. Today, just over a hundred operate. No US reactor ordered since 1974 has been completed. The Seabrook demonstrations---which extended to civil disobedience actions on Wall Street---were key to keeping nearly 880 US reactors unbuilt.
Nixon's nuke backers thought they could solve the Arab oil embargo. But rising oil prices helped doom reactor construction. In construction and in fuel enrichment, nukes depend on fossil fuels that emit greenhouse gases and are in increasingly short supply. Another round of rising oil prices could easily doom another round of proposed reactors, as could impending shortages of raw uranium.
As in the 1970s, the cost calculations for new reactors that are fictional wish lists. Despite millions in PR hype, there is no core Wall Street funding for new nukes or reliable private insurance for liability in case of a major accident. There is also no solution to the problems of waste storage or terror attacks. Whatever economic case there might have been for atomic energy thirty years ago has long since disappeared.
The global grassroots movement that emerged from those New Hampshire armories was savvy, well-organized and passionate. It defined the Solartopian paradigm of an energy-efficient, fossil/nuke-free world powered by renewables.
Tens of thousands of arrests have followed at hundreds of No Nukes demonstrations. But no non-violent reactor opponent or arresting officer has been seriously injured. It is an epic monument to the evolution of peaceful civil disobedience as an effective agent of social change.
Thirty years since construction began at Seabrook, it is a given that any new reactor construction will be accompanied by mass arrests, huge cost overruns, and profound political and financial instability.
By contrast, the prices for renewables and efficiency have plummeted. While reactor construction has gone nowhere, wind, solar and bio-fuels have become reliable multi-billion-dollar money-makers enjoying double-digit growth rates. The revolution in green power is poised to do for emerging Solartopian economies of the next quarter-century what the computer revolution did for the last.
Those 550 Clamshell activists who held fast in Mel Thomson's armories thirty years ago opened the door for a brave renewable world. Their astonishing victory on May 13, 1977, still testifies to the power of mass non-violence---and to the coming reality of a green-powered planet.
--
Harvey Wasserman helped co-ordinate media for the Clamshell Alliance, 1976-8. He was arrested at Diablo Canyon in 1984 and at Seabrook in 1989, and is author of SOLARTOPIA! OUR GREEN-POWERED EARTH, A.D. 2030 (
http://www.solartopia.org/
).
Photos by Lionel DeLevingne.